Two weeks ago at the Amsterdam Drone Week, the Pan-European Urban Air Mobility Projects & Initiatives Community was launched. USEPE was there and confirmed its enthusiasm to be part of this fast growing and much needed community.
This community aims to facilitate knowledge sharing across UAM projects and initiatives in Europe. Indeed, work on the introduction of air mobility in urban environments is accelerating. This translates in a growing number of projects and initiatives contributing with their own focus and expertise.
Synergies are required to enhance results, multiply impacts, and ensure a coordinated approach.
The EU UAM Projects & Initiatives Community will set the stage for Urban Air Mobility by establishing a collaborative and exchange platform linked to the European Green Deal and Digital Agenda. It brings together local, national and EU-funded projects, along with initiatives and regulatory bodies focusing on Urban Air Mobility, to cross-share knowledge and lessons learnt. Additionally, the community seeks to involve local authorities from cities and regions, organisations from the public and private sector, knowledge institutions and research and development entities from all over Europe.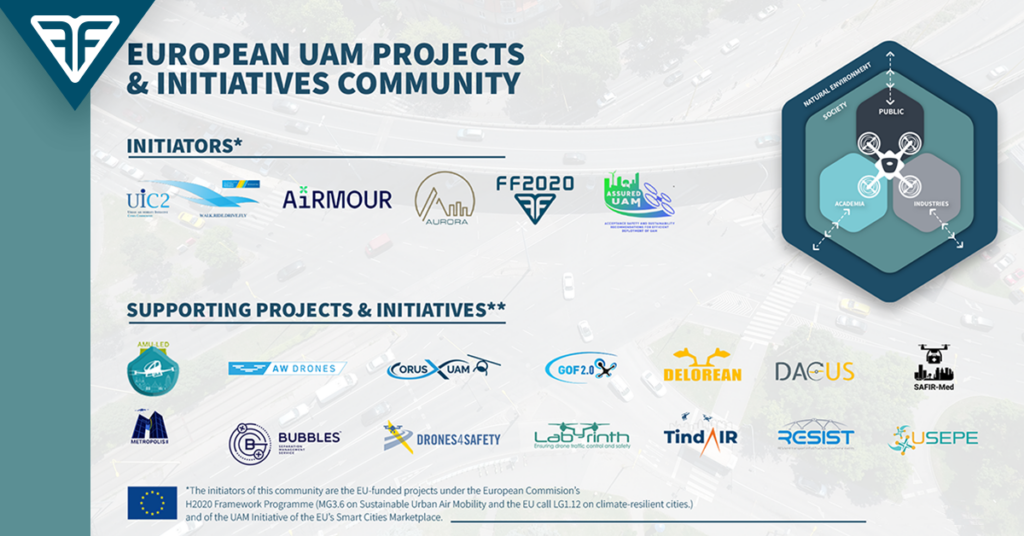 The Community calls for interested projects and initiatives to become part of its ecosystem and bring the discussion and organisation of teh community further, to make this collaboration a success.
To join the community and for further details, please contact:
Vassilis Agouridas, UIC2: vassilis.agouridas@airbus.com
Arthur Dallau and Lisa van der Heijden, FF2020: lisa@digie.expert
Click here to view the statement and the supporting projects on the Amsterdam Drone Week website.